I brushed upon the topic of "What's trendy" for fall but I wanted to create my own specific list. Here goes: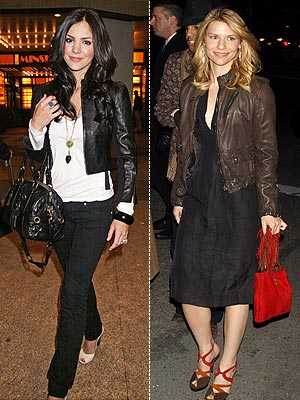 A short leather jacket preferably in black. This look has been making its way in and out of the fashion scene for the past two years. A short leather jacket can easily transform a look to make it edgy or edgier.It's good piece to wear with feminine dresses or above the knee skirts;you can mix the soft with the hard.I'm still looking for my perfect one:-)
A fashionable trench coat. Of course the word FASHIONABLE varies person to person but it's a fall staple and a must. To add a little color into your fall wardrobe,try wearing a bold red,cobalt blue or eggplant purple.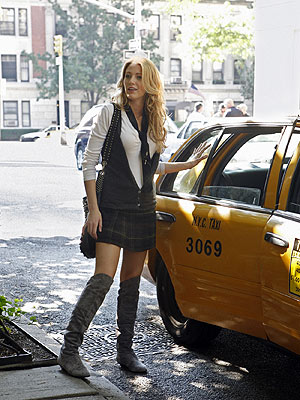 A good pair of boots. They're some many types to choose from. Self explanatory!
A purse/handbag that's versatile enough to wear all season round. I love handbags with- medium to long- length straps,especially when I'm looking for a new school bag. It's alot easier to carry my books. I love alot of pockets and compartments inside to keep everything organized. And a top zipper is so important especially if you travel on public transit. It's full of pick pocketers and weirdos. I live in Brooklyn,I know.
Side note: It's Lauren Conrad...she's so cute. I love her!)
A plaid shirt. I have three and I don't know how that happened. BUT they're all different colors,sizes and patterns. I really love my electric blue buffalo plaid one.It's similar to the one Ms.Conrad is wearing.
A sweater dress is one of the fashions that basically looks good on anyone. Of course it depends on the size of the dress and the cute. Sweater dresses aren't generally worn tight.They look great with skinny jeans,leggings&knee highs.I have at least four sweater dress from last year. I need new ones:)
Last but not least...
At least three great pairs of denim. Get a skinny jean,cigarette jean,and a boot cut or flared jean. It's good to have different pairs of jeans for a different look.I love jeans. I live in them. To see me in a skirt or dress is a rare,rare,rare honor.
<3
Comment& Follow. I love hearing from everyone!