White Blazers
Don't fret there's many ways to rock the ultra polished white blazer without looking like a depressed pre-med student (I would know). White is always crisp and angel like.Be daring (and keep it clean)!
Gingham Shirts
Try a tailored or more femine fit for a super cute yet sexy look!
Straw Fedora
Very beachy nad bohemina cool. It's light and perfect for Spring
Fossil $28
Distressed Baggy Denim
Not so baggy that you look like a runaway convict-just enough so your thighs can breathe a deep sigh of relief. Mix it up,ladies!
Diesel $200

Leaf Earrings
How can you not love this? I got a pair from Forever 21 for $4.50!
Environmentally friendly/For Charity bags
There are widely avaible in just about any department store and grocer.There are many cute ones for cheap. Save the planet!
Breast Cancer Awareness $12.95 on https://shop.thebreastcancersite.com/
Suede flats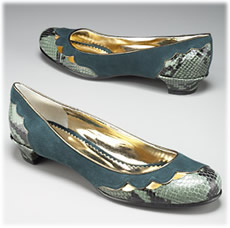 Marc Jacobs Suede Flats w/ python print leather
My flat collection is seriously lacking. I need some cute ones preferably suede:)
STAY TRENDY XOXO