New York Fashion Week is underway and I'm so jealous.I'll have all the coverage next week. One day...I will attend a show.-sigh- Well,that groundhog said we have 6 weeks of winter left.He better be right. This winter in NYC has been really nasty. I loved snow when I was 8. Now it's just getting annoying and a bit of a safety hazard. I fell on my ass three times the day after the blizzard-.- The campus turned into Rockefeller Center. They really could of closed schools for another day. Bloomberg sucks. Ok! My rant over. Spring is upon us--

-Watercolor Prints
Spring reminds me of love,light colors,flowy fabrics and florals. I love this print;It screams "SPRING!" to me.I'll definitely be on the hunt for a watercolor print blouse. Maybe an off the shoulder blouse? Sexy!
Cutout Dresses
Alexander Wang Dress
It's a really fun look. Very edgy-Almost futuristic. A good dress for a cocktail party or even clubbing;]
Flat Sandals(of course)
Cutest way to let your toes breathe.There's a cute sandal for everyone. Flip flops are not acceptable. Maybe...at the beach you get a free pass.
Red Orange
Grapefruits unite! It's a darling color if you wear one piece with this color at a time.
Coral pink nail polish
It's a gorgeous color. It reminds me of the beach.Bascially looks good with any skin color.Loves it
Sheer tanks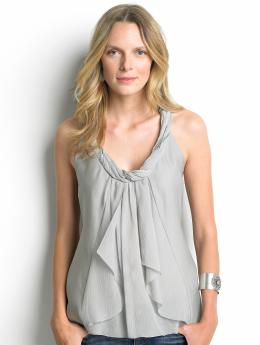 Banana Republic
As long as you have a black bra. All is well. Have fun with the detailing like this braid. Gorgeous,Classic and Flirty.
White Jeans
You don't have to be a size O to wear white jeans. TLC's "What not to Wear" taught me that. It's all about the fit,cut and detailing. Wouldn't this look good with a green sheer top above? Yes. And with a nice flat wooden sandal. Spring outfit!
Tribal Skirts/Dresses/Tops