I'm sure you've probably heard that the most popular Halloween costume for 2010 is.....*Drum roll*-Snooki from Jersey Shore. The pint sized orange reality star has become a household name thanks to her poof and Guidette lifestyle.
Halloween isn't really my thing but look what I found online to make the perfect Snooki costume!
Snooki Wig;retails at $15-20,what's this costume w/o the outrageous POOF?
Guidettes love their animals prints especially Leopard & of course it's skin tight.
Dress retails at $25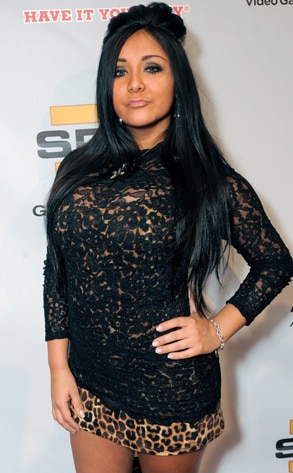 To complete this costume you must have a luscious orange tan.Think-PUMPKIN!
For makeup:
1)Use a primer,apply foundation and concealer.
2)Dab lots of bronzer to get the full orange glow
3)Line upper and lower lids with opaque black eyeliner.LOTS OF LOTS OF EYELINER.GO RACCOONS!
4)Apply false eyelashes and curl them w/an eyelash curler **Use Covergirl Lashblast or Falsies mascara
5)Of course,you have to do a smoky eye
5)To get perfectly arched brows. Brush hairs upward,trim,tweeze and tame with brow gel. You can use a brow filling gel for a stronger look.

& You must have black pumps. It's an absolute must,oh and fist pumping!
Dear Snooki,I love you and the rest of The Jersey Shore cast. Don't ever change:)