I'm sorry but last night's Grammy awards was really boring. Don't even get me started on the winners...let's jump into the fashion. Shall we?
BEST DRESSED: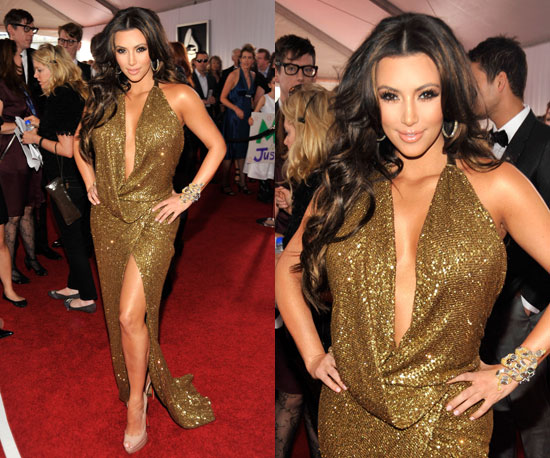 Kimmy K is really nice to look at. She looked like a bootylicious golden statue last night. Very circa 1997 J.LO
Miss Kidman looked absolutely amazing in Jean-Paul Gaultier. Now I see why she's obsessed with mermaid style dresses-instant curves for her boyish frame.
J...TO THE LO. Hell-lo. That's a throwback to an old J.Lo song for the youngins. I know if it was an inch or two longer-PERFECTION.Those Christian Louboutin shoes...give me life. Divine!
SELENA GOMEZ,you look amazing! She kept it very sophisticated,sweet&sexy.She's wearing a J. Mendel gown.
HAD POTENTIAL:
Yes,Ciara has a sick bod but the top portion of the dress is just wacky. It flattens her boobs it's just not flattering at all.There was too much going on with the cuts on the sides,the front detail,different patterns,the shoes,the train...just NO!
Miley looks so grown up. I wish she'll do something different with her hair.A messy updo would've done this dress so much more justice. The dress is very shiny and heavily detailed so she didn't need the bracelets.Maybe just a nice cocktail ring?!
I love me some Katy Perry!!! Her song are addictive,she's cute& all about girl power. Now,I wish I could have snipped that train off her dress. And pulled the skirt up a little more so we can't see any peek-a-boo skin. Love u Katy :-)
WORST DRESSED:
Nicki Minaj wins this. WTF ARE YOU WEARING HB? Anyone that knows me well knows that I LOVE NICKI MINAJ but I can't support this. This...this Givenchy Leopard atrocity.
Waaah :(
I want to hear your opinions,Comment xoxo
Follow me on twitter @sharifaknows & you should totally check out Fashion Police on E! 2nite @ 10!