Lace tights
Urban Outfitters
Hit or Miss? Miss,Miss and Miss. I just don't get it. And some people have the audacity to wear it as pants.Cringe. Just...no,NEXT.

Fingerless Gloves
Hit or Miss? Miss.No explanation or photo needed.


(Faux)Fur vests
Rebecca Taylor Fur Vest
Hit or miss? Tie
Some fur vests looks like roadkill,silly or both. It's for the edgy civilians among us.
Tie Dye Jeans
Balmain
Hit or Miss? Eh,Miss. I love Balmain and there tie dye jeans are pretty cool.Tie dye jeans screams "Look at my thighs". This trend is preferbaly for lean women...or men.
Leather pants/Liquid leggings
Rihanna
Hit or miss? Hit. It's for the cat woman in all of us!
Fringed sandals
Sugar Ghost Dance Sandals;$40
Hit or miss? Hit. I love the boho look.I didn't get a pair during the summer:( I was rocking my beloved gladiator sandals.

Cropped Harem Pants
Hit or miss? A FAIL.MISS.
These are extremely unflattering. It does nothing for your crotch...or your thighs and legs. Clothes should FIT you not swallow you and make you look as if you have crotch disappeared.Rant over!
Denim vests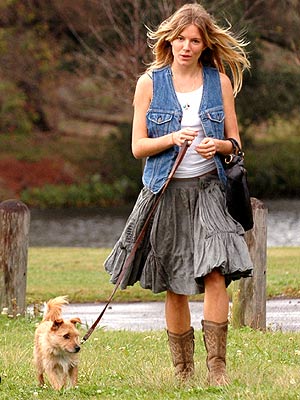 Sienna Miller
Hit or Miss? Hit-when paired with a dress or skirt. Don't wear jeans with a denim vest. The 90's are over.

The Cut Out dress
Herve Leger
Hit or Miss? Hit
Cut out dresses give out the super sexy and sleek look evey woman longs for. Also they create automatic curves which is great for women with more of a boyish and lean frame.
Rompers
Hit or Miss? Miss
These should be illegal.

Sequined jackets
Hit or miss? Hit
If you can avoid looking a disco ball. It's a really fun look that adds a little flair to another wise casual outfit.
Popular nail polish colors:
-plum purple
-gray
-salmon pink
-red
-black
-metallic
-royal blue
Popular makeup trends:
-The smoky eye
-Bold red lip
-Matte lipstick
-Natural/minimal makeup
Popular hairstyles
-Side braid
-60's bun
-Ponytail...always
-Beachy waves
-Curls! Curls!
-1940's pinup hair
MERRY CHRISTMAS TO EVERYONE. I LOVE YOU ALL. THANK YOU FOR WELCOMING ME BACK WITH OPEN ARMS. IT'S BEEN A GREAT COUPLE OF MONTHS SINCE I STARTED BLOGGING AGAIN IN SEPTEMBER. 40 FOLLOWERS...KEEP FOLLOWING AND COMMENTING.GOD BLESS!
Stay tuned for my favorite fashion moments of 2009...I'll be back on 12/29